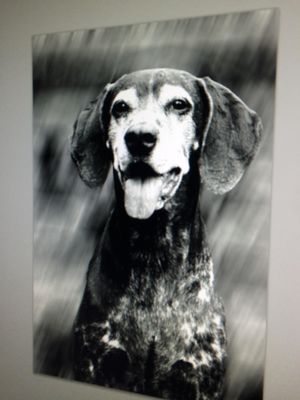 Int. CH GCH Snowcreeks Little Bit O Heaven CGC, JH, NRD, CD, RN, VC 
BELLA 
(05/05/2005 – 02/26/2017) 
( CH SNOWCREEKS FOSTER OF MORUADA JH RN  X  CH SNOWCREEKS ELEMENT O SURPRISE  ) 
OFA=Hips Good ~ Elbows=Normal ~ Eyes=Cerf ~ Thyroid=Normal ~ Cardiac=Clear ~ CD=Clear 
CHIC# 46​107​​​​​​ ~ DNA#  V498379 
Bella is the foundation bitch of our Breeding Program. 
She came to us from "Snowcreek Shorthairs" in Oregon, and was our first competition shorthair. 
She is a lovely bitch, standing at 23"and 55lbs with a Medium Dense/Harsh coat. 
She is a close working gun dog, but can cover plenty of ground and will hunt all day. 
She has a keen nose, is staunch on point and solid retrieve both on land or water. 
Bella is very biddable in the field while having an enormous amount of drive. 
Bella is a wonderful hunting partner, always ready to go with whomever and whenever. 
She has been a great family companion who is very well mannered and settles quietly.